Heavenly Descants
See what musicians are saying about Heavenly Descants, hear audio recordings, and purchase your copy!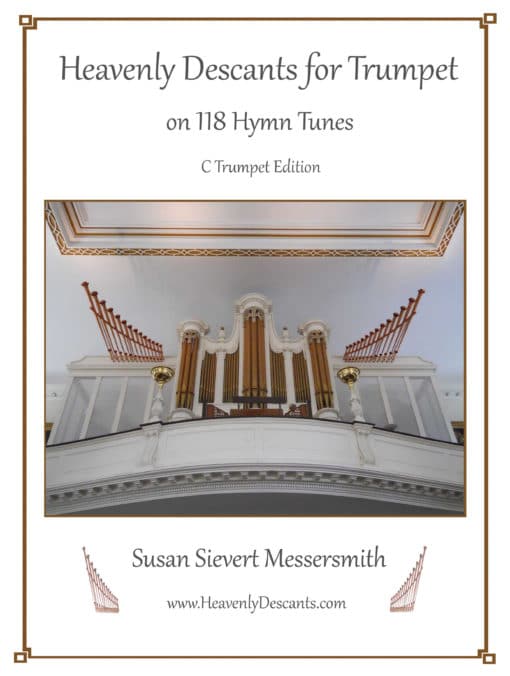 HEAVENLY DESCANTS FOR TRUMPET ON 118 HYMN TUNES,
Susan Sievert Messersmith.
HeavenlyDescants.com, $35.
"This is a superb resource for any church that uses a trumpeter:  if he isn't prepared, at least you will be.  Each of the 118 descants is written to fit the harmonies of most hymnals.  There are a few Christmas and Easter hymns, but the general contents are what make this so valuable.  There is hardly a commonly sung hymn not included, so there could not possibly be an excuse not to use the trumpeter.  Messersmith is a former member of the Charleston Symphony Orchestra, so she certainly knows her craft and has tested each of these descants herself.  The engraving is beautiful, the printing is clear, and none of the descants is difficult.  You can't lose this with one."
Rollin Smith, The American Organist magazine
Reproduced with permission
The organist on the descant tracks is Todd Monsell. He is performing on the Schantz organ at St. John Lutheran Church in Charleston, SC, which is featured on the cover of Heavenly Descants.
"We at The Parish Church of St. Helena are blessed several times a year to have Susan Messersmith play in our worship services. Susan never fails to delight us with her incredible musicianship and her beautiful descants. These descants are well written and varied, often soaring above the melody, sometimes anticipating the next stanza, sometimes mixing beautifully within the melody line. Our congregation is delighted to have these lovely tunes to enhance our worship. Having the composer play her compositions is an added blessing for us all."
"Heavenly Descants for Trumpet is a fantastic and comprehensive new resource for trumpeters everywhere. Every trumpet player, from students to professionals, will find these wonderful new descants useful in their church performances. Congratulations Susan on a tremendous project that all trumpeters should have in their library!"
"No church musician should be without this collection of well thought-out, beautifully printed descants. Conveniently cross-referenced for hymnals of five different denominations, trumpeters of intermediate through professional skill levels will find artistic descants for any occasion."
Find out what's included in Heavenly Descants for Trumpet and see sample pages with the links below.
Index of Heavenly Descants
Sample of Engleberg
Sample of Mendelssohn
Sample of Diademata
This is the most comprehensive trumpet descant book on the market, and will pay for itself the first time you use it. It will be the "go-to" book in every trumpet player's music bag for church service gigs, as well as weddings.
These original trumpet descants have been cross-referenced with the harmonies from 5 different hymnals (primarily Episcopal, Lutheran and Methodist) with some references to a few other hymnals. Each descant has the various hymn numbers listed at the bottom of the page; no testing necessary!
"Susan Messersmith has utilized her considerable talents as a player, liturgical musician and detail-oriented person to provide a very useful compendium of descants from the most standard hymn tunes. In this convenient collection, she offers a wonderful service to music directors, churches and trumpeters alike: playable, idiomatic descants that are at the same time respectful to the text and, with the C and Bb parts, helpful to all genres of trumpeters. This thorough and practical publication goes to great lengths to lessen the weekly workload of organists and trumpeters everywhere by referencing and including multiple descant versions of the same hymn melody for the different harmonizations. Heavenly Descants for Trumpet is a handy and valuable addition to every trumpeter's library."
"Susan Messersmith has created a wonderful collection of descants, that will resonate meaningfully for accomplished trumpeters who are regularly asked – sometimes impromptu – to supply descants on the final (or perhaps other) verse. Through her well-constructed obligato lines for these well-known hymns, it is very clear that Mrs. Messersmith knows these hymns, and understands the needs for organists and choirs/congregations very well, supplying added punch when desired, or retreating when called for by the text. On a practical basis, the collection is well constructed and clearly delineated (including multiple versions of Ein feste Burg, for example), while always allowing the player to choose Bb or C trumpet. This will make a nice edition for any professional or well-trained amateur trumpeter."