About Susan
Susan Sievert Messersmith grew up in a house filled with music. Her parents were church musicians (choral and organ), and her Mom played orchestral bass as well. At home, they also played duo-piano concerts.
During her conservatory years, she studied regularly with members of the Cleveland Orchestra, Ohio Chamber Orchestra, Music of the Baroque and more. In various summer music festivals, she attended lessons and masterclasses with renowned brass players from all over the world.
She was a member of the Charleston (SC) Symphony Orchestra from 1993 to 2007. In addition to her duties with the Charleston Symphony and CSO Brass Quintet, Ms. Messersmith has been an adjunct faculty member at Charleston Southern University since 1993 (where she teaches trumpet and directs the brass choir) and was a member and co-coordinator of the Spoleto Brass Quintet for many years.
In 2007, she decided to spend more time with family, and resigned from the CSO, though she can still often be seen on the stage playing extra and filling in when needed. She maintains a very busy freelancing and teaching schedule.
Susan's Principal Instructors
James S. Darling, The Cleveland Orchestra
Mary Squire, Ohio Chamber Orchestra
Barbara Butler, Music of the Baroque
Michael Sachs, The Cleveland Orchestra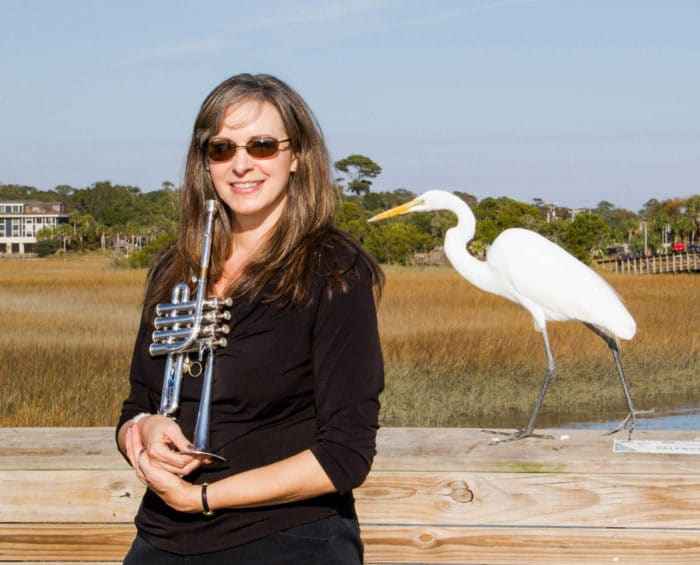 "Trumpeter Susan Messersmith provided a thrilling example of high, Baroque trumpeting, unequaled locally in recent years."
Where Susan has performed
In the summers she is a member of the Shenandoah Valley Bach Festival, and the Wintergreen Performing Arts Summer Music Festival, both in Virginia.
She has performed with
the San Antonio Symphony
the Phoenix Symphony
the Rochester Philharmonic
the Jacksonville Symphony
the Canton (OH) Symphony
the Roanoke Symphony
the Wooster (OH) Symphony (with which she has also performed twice as soloist)
the Savannah Symphony
the Chautauqua Symphony Orchestra
the Hilton Head Orchestra