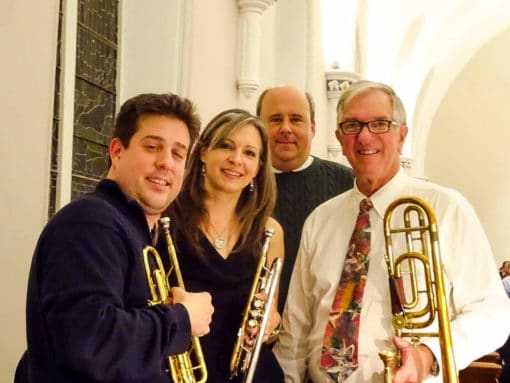 Charles Towne Brass
is a group comprised of professional musicians in the Charleston area, specially tailored to fit the needs of your event and venue!
Why choose Charles Towne Brass?
Having been a member of the Charleston Symphony Orchestra for 14 years, and now freelancing and contracting ensembles for events for 10 years, I have a solid list of dependable, quality musicians that I can trust. I am an exceptional organizer and have strong attention to detail. I'll do my best to make your event as special as if it were my own!
Groups such as brass quartets or quintets make a lovely addition to festive church services!
One or two trumpets paired with string quartet are a perfect choice for weddings – indoor or outdoor!
String quartets are wonderful for the cocktail hour between a wedding and when the reception band begins.
Smaller ensembles such as a string duo or woodwind trio set a beautiful mood for more intimate occasions.
Prices are based on the length of the event, the number of musicians, and type of event.
Please contact me for more information!
"It was truly amazing having the music performed so wonderfully! It made our wedding so much more special."
"I wanted to tell you how wonderful the trumpet music was.  The descant on "God Is Love" was especially beautiful, and my son, Jack, told me that you wrote it.  The videographer made a CD of the music in addition to the DVD.  I've been riding around Greenville, with my car windows rolled down and that glorious music playing at top volume."
"The music was…perfectly amazing – providing the perfect energy for a grand occasion.  We felt
royal
."
"What a wonderful addition a superbly played trumpet makes!  Several guests said that your trumpet 'gave them chills and that the music was soaring to the rafters.'  Thank you for making this joyful rite even sweeter with your heavenly music."